Innovation & Food Science
St. Paul Portage College Food Sciences Centre
Located in Northeast Alberta, approximately 200 kilometers from Edmonton St. Paul has all the services you could want, such as excellent education, hospital, medical centres, and daycare/dayhome services. Shopping centres, numerous sports and recreational centres including a swimming pool, bowling alley and an 18 hole golf course.
The newly created Food Sciences Centre will serve as the hub of food science programming in the north. With over 5 million dollars spent renovating this state of the art facility, St. Paul can boast culinary programming such as a two year culinary arts diploma, a two year diploma in food sciences, a baking certificate and an institutional cook certificate.
In addition to the educational aspect of the Food Sciences Centre, Portage College also plays host to a Business Incubator and a Food Innovation Incubator facility.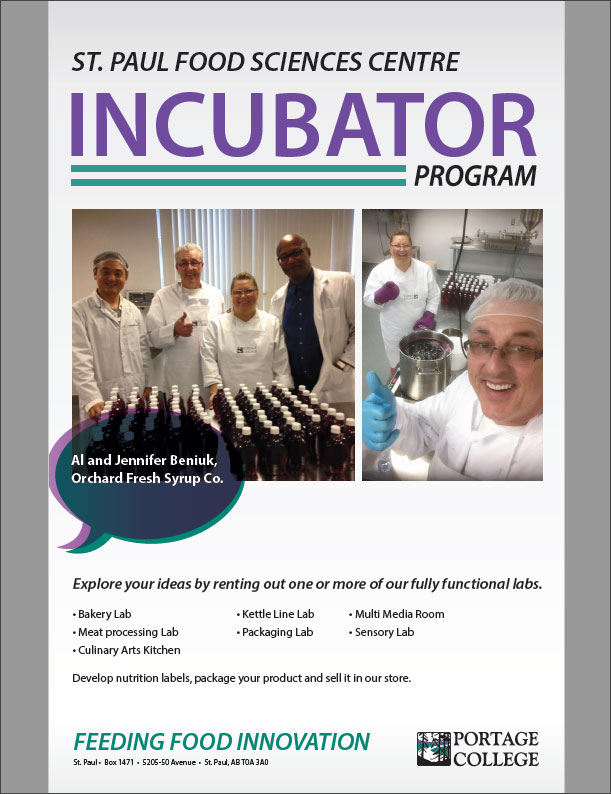 Leduc Food Processing Development Centre
Contact Information
Food Processing Development Centre
6309 – 45 Street
Leduc, Alberta
CANADA T9E 7C5
Phone: (780) 986-4793
Fax: (780) 986-5138
Website: http://www1.agric.gov.ab.ca/$department/deptdocs.nsf/all/fpdc5012
Overview
Leduc's Food Processing Development Centre is a modern, fully equipped pilot plant and product development facility. It's staffed with experienced food scientists, engineers and technologists. Services are designed to strengthen and expand the capability of food processors to meet the challenges of the marketplace through application of new technology and the development of new or improved products and processes.
The Food Processing Development Centre also houses the Agrivalue Processing Business Incubator. The incubator is a multi-tenant CFIA approved facility enabling new food processors to scale-up and commercialize new products, which can be nationally and internationally marketed.
Core services
Product development:

Technical consultations
Concept analysis and development
Prototype design and demonstration
Product packaging technology
Regulatory requirements and labeling assistance
Quality control/quality assurance specifications

Pilot Plant/Process Development

The pilot plant consists of four separate processing areas: meat, wet process, dry process and fine particulate. Equipment can be integrated to provide a process made up of unit operations such as size reduction, drying, separation, heat transfer, extrusion processing, concentration, smoking, packaging and mixing. A complete forming, batter/breading, frying, cooking, baking and freezing line is also available and can be arranged in any required sequence (click here for list of equipment).
The pilot plant can be used for scale-up and process design, as well as interim and test-market productions.

Analytical services

Product evaluations of physical properties, such as colour and texture, as well as chemical composition and microbial qualities. Analysis supports shelf-life determinations and nutrition labeling requirements.

Sensory evaluation

A comprehensive sensory laboratory in Leduc, with access to experienced and trained panelists
A Consumer Product Testing Centre in downtown Edmonton including a database of consumer panelists to meet the demographic requirements of your product
Access to institutional food preparation equipment, to mimic end-user preparations
Statistical data analysis and product test reports

Food Science & Technology Centre (Brooks, AB)

Experienced specialists provide R&D services in post harvest handling and storage, value added processing of horticulture, greenhouse and specialty crops and product development.
Facilities
Federally inspected pilot plant areas and product development kitchens
Sensory and Consumer Product Testing Centres (in Leduc and Edmonton)
Agrivalue Processing Business Incubator: 8 fully serviced processing bays with centralized shipping and receiving and shared cold storage, staff welfare areas and reception.
Recognition
Agriculture and Agri-Food Canada Meat Hygiene Directorate Standards as an establishment registered with the Canadian Food Inspection Agency (CFIA). Pilot plant meets all requirements for the shipment of products containing meat ingredients, both inter-provincially and internationally.
Utilizes HACCP systems.
Incubator meets CFIA building requirements and can be federally registered with approval of HACCP Plans
Agri-Food Discovery Place
Agri-Food Discovery Place, (AFDP) a 5000 sq metre world-class innovative research, training and technology transfer facility in Edmonton, Alberta. This facility may of particular interest to agriculture producers or associations in the Northeast Alberta region that have an interest in bio-products.
In operation since 2008, AFDP is the very first facility in North America with a partnership serving not only the University of Alberta academic staff, but also the Bio-Industrial Technologies Opportunities Team of Alberta Agriculture and Rural Development (ARD). The intention of this partnership is to bring the facility to full capacity and develop cross-functional technical and business development teams that can support the needs of all stakeholders. Teaching and training of highly qualified people is a high priority as well.

Olds College Centre for Innovation
Since 1999, Olds College has played a leadership role in applied research activity aimed at advancing innovation-based rural economic development in Alberta. The mandate of Olds College Centre for Innovation (OCCI) is to enhance innovation in the agriculture, horticulture, land and environmental management sectors through market-focused applied research and the development of enabling processes and new products.

Lacombe Research and Development Centre
The Lacombe Research and Development Centre is one of a network of 20 national agricultural research centres operated by Agriculture and Agri-Food Canada. It is situated in one of the most dense and diverse livestock production regions in Canada and is responsible for the development of integrated, sustainable crop, animal and honey bee production systems and crop varieties for the short-season environments.