Labour Overview
In 2015, Alberta's business sector had the highest labour productivity level in the country.  The total value added per hour worked in Alberta exceeded the Canadian average by about 39 percent.
Alberta's productivity advantage over other Canadian provinces is substantial; however its rate of productivity growth had been slow for many years.  This low productivity growth rate was due to changes in the nature and composition of Alberta's energy output.
In the last few years Alberta's productivity performance has improved because of a productivity resurgence in the energy sector.
Although Alberta's short-term economic growth prospects have weakened because of low energy prices, Alberta's long-term economic growth prospects remain solid.  However, continued long-term economic growth depends on increased productivity growth in order to optimize the economic benefits from energy investment in Alberta, and to encourage higher value added activity and industrial diversification.
Business Sector Labour Productivity 2015
Real GDP per Hour Worked, in 2007 constant dollars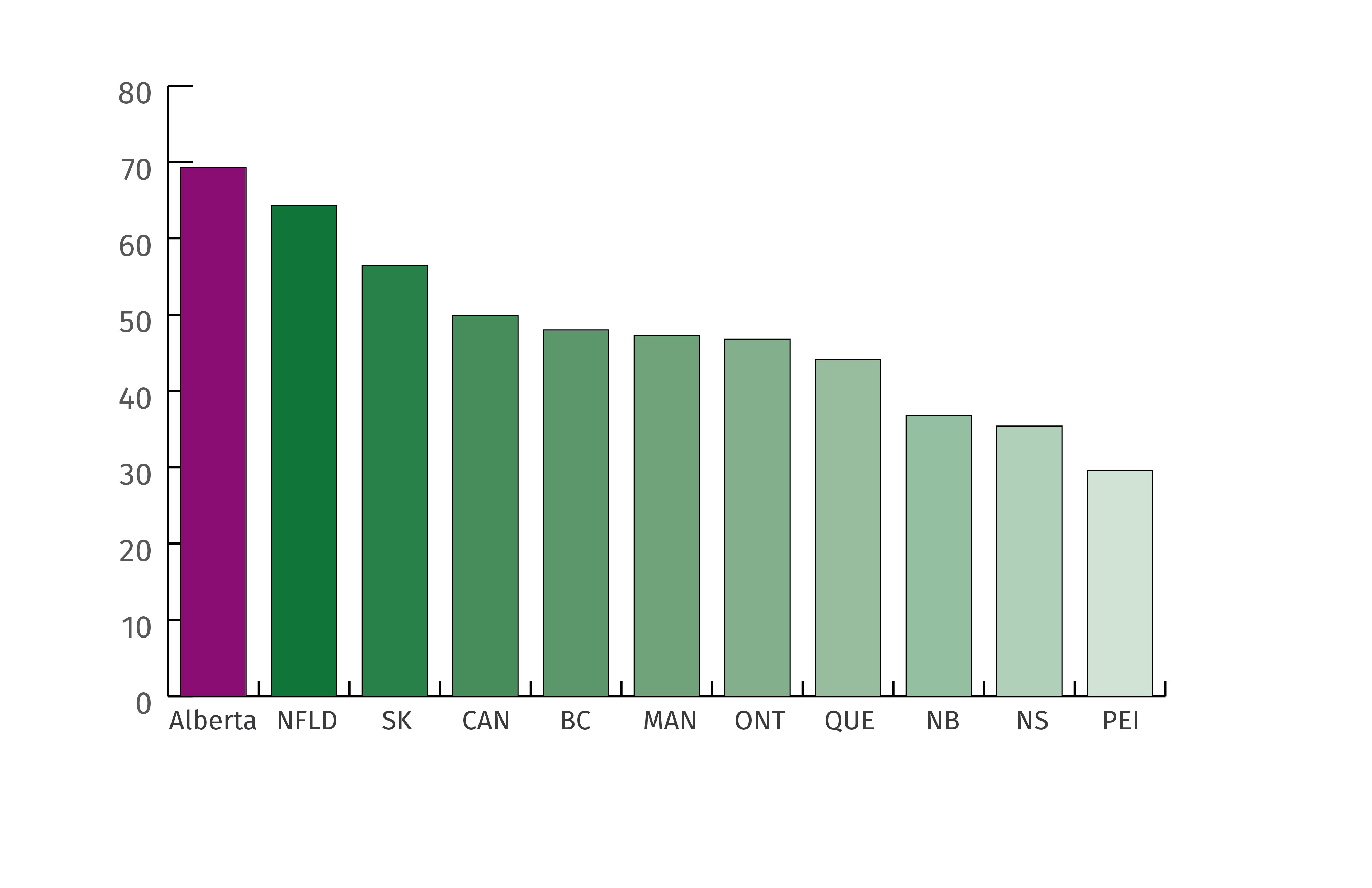 Labour Force Profile
Educated Work Force
Alberta's labour force consists of 2.4 million well-educated workers.
In 2015, 66.2 per cent of the labour force 25 years of age and older reported holding a university degree, post-secondary diploma or certificate.
In 2015, there were more than 68,000registered apprentices training at approximately 15,000 employer sites around Alberta.
Alberta's apprenticeship and industry training system is second to none, training 18 per cent of Canada's apprentices, despite having only 12 per cent of its labour force.
Strong Labour Market
Since 1990, Alberta's unemployment rate has been one of the three lowest of all the provinces in Canada.
From 2010 to 2014, Alberta's unemployment rate averaged 5.2 per cent, compared to 6.8 per cent in British Columbia and 7.9 per cent in Ontario over the same period. In 2015, Alberta had the third lowest provincial unemployment rate of 6.0 per cent in the country.
Since 2005, Alberta employment has grown an average of 48,000 new jobs per year: a growth rate of 2.4 per cent per annum. In 2015, employment in the Alberta economy increased by 26,500 from 2014.
Although Alberta's unemployment rate has risen from historical lows to rates that are currently higher than what economists typically generalize as a balanced labour market, Alberta is expected to have a balanced labour market once the current slowdown ends.
A Dedicated Work Force
Total Days Lost per Full-Time Worker per Year by Province in 2015